Director
: David Bruckner
Writers
: Joe Barton and Adam Nevill's The Ritual

Starring
: Rafe Spall, Arsher Ali, Robert James-Collier, Sam Troughton.
UK
. 1h 34m
One of the perks with Netflix is that it gives you the opportunity to watch on the go, which I tried to do with Ritual, but after watching the opening scene I had to stop the film, get home, get comfortable and absorb this film as it instantly grabbed my attention.
It opens with a few guys, not really willing to admit they are getting older but needing to get out on an adventure, or just the yearly lads holiday, Ibiza!? no they are getting to old, camping, that's too boring.. so what? The discussion goes into the street and on the way home a couple stop to get some vodka, the night is young and it must be continued while picking up the booze in the offie, they become aware that the place is being robbed, Luke (Spall) hides behind a display while his best friend tries to talk the situation down, it doesn't work they start attacking him, and he bleeds to death while staring at his cowardly friend… this is the first lesson of this movie but the location changes to the deep dark forests of Sweden and the stakes get higher.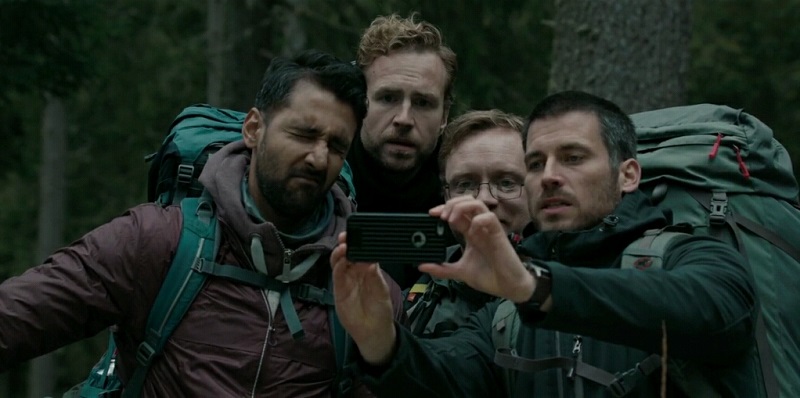 The group decide to embark on their camping trip in honor of their dead buddy, they take a photo of him spill a drink for their dead friend and head into the forest. Things plod along in a laddish kind of way until they are startled to find themselves lost in the forest, then one of the guys twists his ankle, slowing them down, then stumble on the rotting carcass of a stag hanging in the trees, gutted and strung up like a desolate and grim warning surrounded by runes carved in trees and made using primitive folk art, they have little explanation write it off as a random bear attack, trying desperately to ignore all the warning signs. If this wasn't a horror movie this part of the plot wouldn't be accepted.

By late evening the forest darkens and the rain starts to fall when they chance upon a lighted path to a cabin, much like any Scandinavian fairy-tale they tuck in for the night despite finding a bizarre Wicca man with horns crafted in the rooms upstairs, but while deep in their dreams they awake to find themselves under a spell or possibly being psychically attacked. One guy is upstairs praying to the figure and the group freak out. The way this scene was filmed was not just for the jump scares it manages to build tension out of the confusion and from then on I actually I started freaking out.
Trying to get their shit together physically and mentally they head back out into the woods and eventually come to terms with being stalked by… something.. the "monster" in this creepy adventure is something quite different, a hybrid with unlimited proportions that stalks its victims skilfully, quite like the Predator (1987), the camera will pan through the forest, as the guys search for bears and axe murders, and for a while your eyes search wildly, is it in the trees, is the a tree? Now and again you'll see something move and… …
The other brilliant aspect is the blend of pseudo paganism, and a faux fantasy history, which by the end of the film you realise is potentially quite real, but the simple use of runes and Wicca effigies and who can't help thinking about The Wicker Man (1973) !!? But the film takes one step deeper half of this is about a monster creeping through the forest picking off anything and anyone that challenges it, if you're a brave individual then your it, on the other hand, if you're a pussy wimp who hides when your best friends is being beaten to death then you might have a chance.. but do you really want to be a slave all your life? Bravery is a big element here.
Having a creature that spans physical and mental attacks, Bruckner has an open licence to create vivid sequences where reality and dreams become fragmented, while being attached in the forest Luke  find himself back in the offie but it's filled with trees, the two worlds collide at times, all in the aim to force him to submit.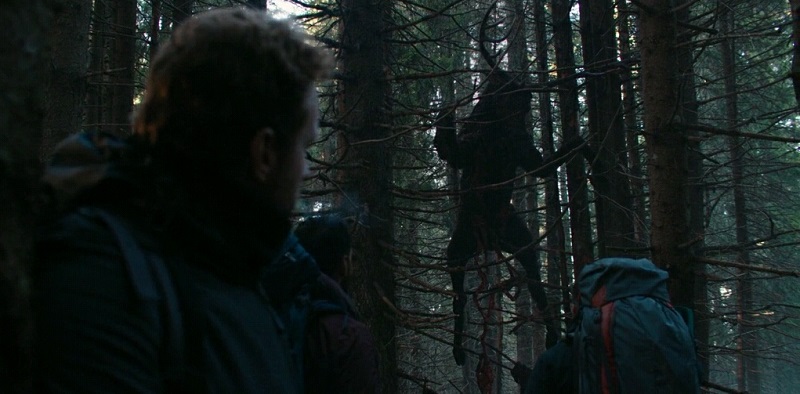 Bruckner is a bit of dab hand when it comes to light surrealism and fantasy, having filmed segments in V/H/S (2012) and Southbound (2015), he's a very accomplished director who seems to be able to dig deep in the psychee and pull out those little things what we seem to take in without realising and he plays with those. In the deep dark forests he creates a situation with a god like monster which has enough history that we can relate to it in a certain way. It can attack both physically and mentally so there's nowhere to hide, but knowing what we know about Luke, will he succumb and conduct the Ritual or will he grow a pair? What does this monster want and why? there's so much going on in this new style horror movie and I have to admit that it really got under my skin and freaked me out in so many way, and I LOVE it!!
Rating 10/10
Related: V/H/S 2 (2012), Southbound (2015), The Wicker Man (1973), Predator (1987),
Lists: Horror films that actually scare me, Running through the forest
Trailer