Director: Gareth Evans.
Starring
. Dan Stevens, Lucy Boynton, Mark Lewis Jones, Bill Milner, Kristine Froseth, Paul Higgins, Michael Sheen.
USA
. 2h 10m.
Gareth Evans' Apostle is a troubled journey into the dark nature of man being forced upon the nature around him in the guise of a new religious cult who have hauled up on a remote island. Evan's previous projects are considerably different in nature, mostly the Raid (2012) and Raid 2 (2014), which saw a lot of action and violence, although he did perfect sidestep into horror in the V/H/S 2 (2013) anthology when he co directed the Safe Haven segment but again his horror came with a fast pace. But in this epic horror, he manages to divide the film into something more brooding before it picks up speed and descends into a casserole of blood or torture. Much like Panos Cosmatos Mandy (2018). When you think you've "got" the movie, suddenly there's a shift into something unexpected and there's not going back.

This ambitious work opens in 1905 with a crazy eyed Thomas Richardson (Stevens) arriving to the family home to discover his father in a catatonic state from grief, his assistant informs him that his sister (Rhys) has been kidnapped by a desperate cult for a massive ransom, without hesitation he sets off to masquerade himself as a devotee and sails off to the island undercover. Arriving on bare Welsh island Thomas discovers a pious community, lead by a dominant and highly charismatic Preacher, Malcolm Howe (Sheen) mostly the flock are happy and live within their blind devotion struggling with lives filled with toil as they build their paradise generally their lives are typical although they are forced to practice bloodletting. Instantly the highly attuned Thomas picks up on an undercurrent of fear and high strung suspicion and slowly he begins to infiltrate the doctrine, skipping out at night to scout for his sister in a James Bond style romp while making his investigations, befriending and beguiling the locals and trying to avoid detection and capture from Malcolm, his deadly henchmen and their loyal guards who are like Vatican ninjas.

The movie shifts from a Children of the Corn (1984) style religious paranoia into something much darker and more pagan once the eagle eyed Thomas starts revealing the communities secrets and discovers a bizarre woman known as The Goddess, and her creepy companion known as the Grinder…
A lot of people are screaming Wicker Man (1973) after seeing this blood drenched movie but I do see more of a likeness with Christophers Smiths medieval horror Black Death (2010), and after watching Apostle I can see what he was trying achieve, although I felt the trick was missed in Black Death. But the power comes from the compelling cast who lead by the brilliant Sheen who adds a ton of depth and wild Stevens who excels with this physical role while remaining incredibly believable when getting sentimental over his sister. I also felt that Lucy Boynton really came into her own, in her role as the Preachers daughter, a slightly privileged young lady with a lot of ballsy courage, her flaming red hair really made her stand out from the other muddy villagers, at times she came across as a more energetic Sadie Frost.
The film really comes together in the third act, where there's a slow breakdown and destruction of the abnormal system on the island,angry, betrayal and a tossel for total control of the island causes sparks to fly especially after the discovery of Goddess and her forced manipulation there's catastrophic effects for the pious village.
Evans has really captured so much robust religious imagery, in the first act it's the prayer book and hand built church, with Sheen parading the stage with strong speeches and a terribly sensible haircut, then after a few field trips, Thomas sights hand painted rock paintings, showing a fierce woman with wild hair and imagery of leaves and pagan altars intertwined with roots, and finally through dark wild flashbacks Thomas reveals his previous life as a Preacher during the Boxer Rebellion where he tried to introduce Christianity to China with devastating effects.. On him burning crosses, introduced inverted on screen see the Christians being tortured while praying, a real hellish scene with guttural effects. Religion and Blood are huge fragments in this story but their meaning and actions change as more is learnt and for me that's fascinating.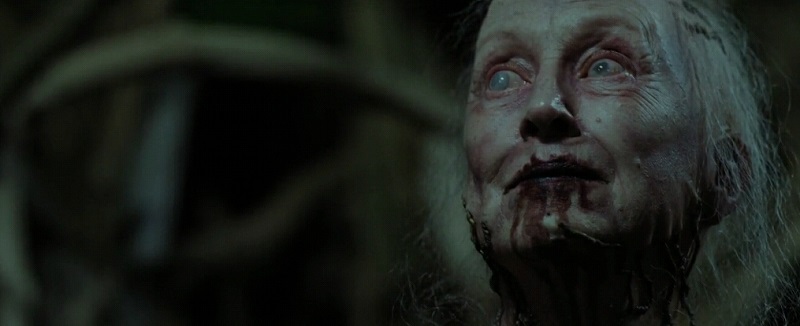 The film is really deep and absorbing right until the bitter end where miraculous things continue to happen, right until the credits roll, after the initial introduction things to heat up to tell a pretty individual story, even with it's connections it's at least presented in a starkly contrasts way. Evans isn't the kind of director who's here to make you feel happy, he does always manage to energize brilliant stories and in a world where films are often aimed to sell a happy ending, something wonderful that can create a lot of merchandise, this simple is what it is, and manages to bring a lot of enjoyment for a film flooded with blood.
Rating 7/10
R – Black Death (2010), Wicker Man (1973),
L – Cults on Film, Welsh Movies
A -Michael Sheen, Dan Stevens
Post Discussion