Director: Lisandro Alonso
Starring: Viggo Mortensen, Ghita Nørby, Viilbjørk Malling Agger. UK. 1h 49m
Sometimes I watch a movie and I'm left with a feeling of nostalgia hinted with the question of did I really just watch a dream come to life on screen? There's a rare select group of directors who can achieve this unique atmosphere but the determined efforts of Lisandro Alonso and Viggo Mortensen have made a movie which starts out quite straight forwards eventually boils down to a crazy trip in the desert, akin to any modern classic but it's set in the past and it almost fools you into thinking that such a step into the unknown is not plausible.
Set in an eerie South American landscape, Jauja (pronounced "how-ha") begins with a strong and beautiful relationship between a father and daughter, she tells him she wants a dog, someone to follow her around everywhere she goes, he's more focused on his job, the Danish pair are in a forgein land, Viggo plays Dinesen, an engineer who's been recruited by the Argentianian government to help assist the army, and unwisely he's brought his head strong teenage daughter, Ingeborg (Agger) along.
By the time Ingeborg runs off with her lover, an equally young and idealistic soldier, Dinesen has embarked on an emotional and deeply spiritual journey to find his girl. The soldiers uniform he wears looks so out of place against the backdrop of a still and dead rocky background. It's filmed with a simplicity much like John Ford's The Searchers (1956), it's as if the film has to presented sparingly , a cut frame gives the hint of an aged cinematic film that's not seen anymore, but we've seen it before, the magic works as the massive landscape does seem so expensive, despite being cut and sized down to fit this tiny frame.
With all it's high strangeness, the movie remains stunning, both in it's accentuating homage to the landscape and with a twisting story, like a lake it has many possible endings, but the movie isn't necessarily about this formal journey of a Dane who manages to traverse a lot of wilderness. Much like the Ornithologist (2016), we have a limited amount of characters who play roles, roles that we are familiar with but it takes a while to really understand the function. While encountering only a handful of characters in his angered search a very tired and confused Dinesang, meets an old woman in a cave, after drinking clean water and befriending her dog, the movie starts to offer a few explanations in its final sequence, a confusing juxtaposed scene which really boost the audience's knowledge as to what the journey is all about.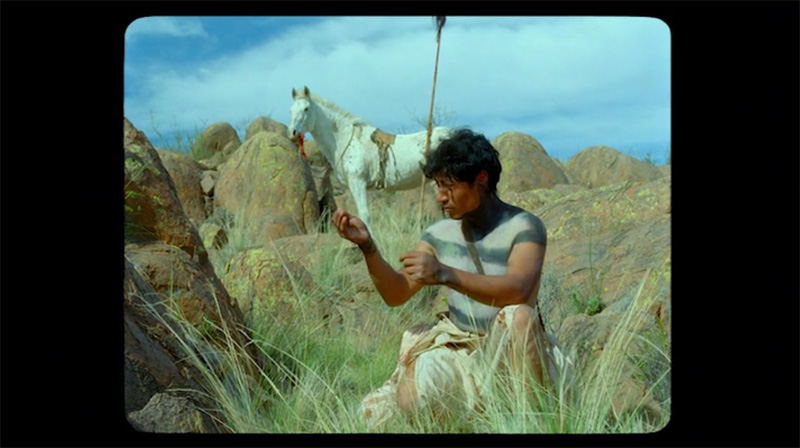 Then it's time to watch the movie again for the eureka moment and it takes on a whole new meaning, something more profound but only from what you can pick from in between the lines. This beauty of the film comes from its refusal to really say what it's about and the small fragments that it eventually coughs up start in link such banal objects like a dog and toy soldier, but their significance is up to the viewer, sometimes it's easy to work out the vital elements and at other times it's hard to know if you're looking at something with any significance or not.
The film is in a boxy 1:33 aspect ratio, something conjured up but Aki Kaurismaki's regular cinematographer Timo Salminen, the gentle curve of the corners suggests that films early 19th century origin. The camera often pans around with characters eventually catching up, it's as if even the film itself is unaware of the players involved or the story ahead.
Alonso's previous feature length work was Liverpool (2008) detailing the return home for a merchant sailor, it's a cracking movie but this supasses it. Not just for his efforts, getting someone like Viggo on board really pushed this project into new grounds, he worked on everything from the ambient and yet very classical soundtrack was crafted by Viggo Mortensen and Buckethead, an unlikely duo but between them, they entwined a beautifully haunting soundtrack. He worked on costuming, background stories, subtitles and even the most haunting of the movie posters of this deeply genius film that glitters with so many possibilities.
Rating: 8/10
R: Embrace the Serpent (2015), Ornithologist (2016), Zama (2017)
L: Spiritual Journeys, a father and a daughter.
5s: Viggo Mortensen
Post Discussion
Trailer