Director: Nick Love
Starring: Danny Dyer, Tamer, Hassan, Geoff bell .UK. 1h 37m
It feels funny going back in time and finally watching this lary movie. After watching the slew of films which were created from it's fallout, seeing the original template feels weird as I've seen all the parts play out in slightly different ways. Nick Love's signature direction has conjured a tough guy world for many fans of this "English Bad Boy" subculture. But going back to see one of the early greats you can easily see what they were trying to mimic. This came just after Love's cult favorite The Football Factory (2004) and aimed to tell a rags to riches tale littered with disgusting language and questionable characters.
Frankie (Dyer) is sent from London to a remote seaside paradise in Spain to do a job for a friend, he doesn't have much choice, after severely beating his mothers abusive boyfriend he's a fugitive and falls into the lap of Playboy Charlie (Hussan) an expat criminal who's lifestyle of fast cars, cash, designer clothes and local fame really sparks something in Frankie and he begins running with the gang which also includes Sammy (Bell) who are in fact a team known as the Peckham Four who are wanted for armed robbery back in Britain.
Set in the 80's this bad boy paradise is bursting with classic hits, Duran Druan, Frankie Goes to Hollywood, The Cult and Blondie make appearances among all the other greats, but the film isn't about the music, it's about the epic rise and crashing falls of these idiot bad boys. Dyer has his typical swagger and the dialogue, narration and otherwise is pure banter from cover to cover, possibly in some attempt to make you think the 80's were tougher and cooler? With liners like, "Two beers please, and I don't suppose there's a chance you'll suck my cock?" I'm not sure who's supposed to be impressed? Outside the readers of lad mags I can't see anyone really digesting the movie all that well.. At times it leaves a bad taste in your mouth. The handful of women who made it into the film are all perceived as dim witted eye candy *yawn*
" The geezer was so hard even his nightmares scared him."

-Frankie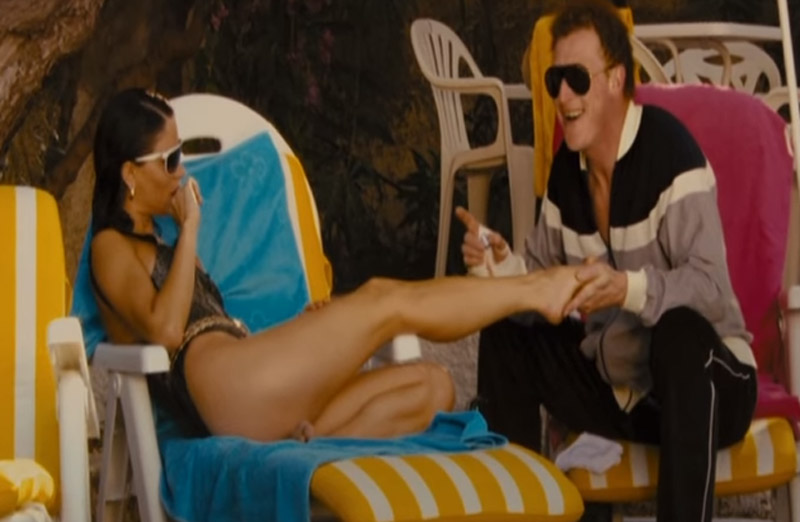 Feeling like all the worst bits left on the cutting room floor from Sexy Beast there's not a lot to really enjoy about the movie, apart from when tall the best laid plans fall through and you see everyones true colours shining through. The ultra sexist encounters, plans which children can see the plot holes shining through and the lack of depth of character, you really have to switch off to get the best out of the film, unless of course it's your kinda thing, where it can easily be seen as the best film of it's genre, but for me the post poetic is somehow the esoteric underlining of Sexy Beast!
Rating: 3/10
Related: Sexy Beast (2000), Football Factory (2004), Layer Cake (2004)
Lists: Lad Flicks Vol 1, On the Run,
Spotlight: Danny Dyer
Trailer