Director: Anthony DiBlasi
Starring: Juliana Harkavy, Natalie Victoria, J LaRose, Joshua Mikel. USA. 1h 30m
Just when you thought it was safe enough to guard an abandoned prison during the graveyard shift… There's something about The Last Shift which really resonates with horror fanatics. A simple story which is the ultimate setting for a horror story is amped up with good old fashioned ghostly atmospherics and relies on practical effects, this is what the fans cry out for constantly and when it's delivered it's welcomed with open creepy arms!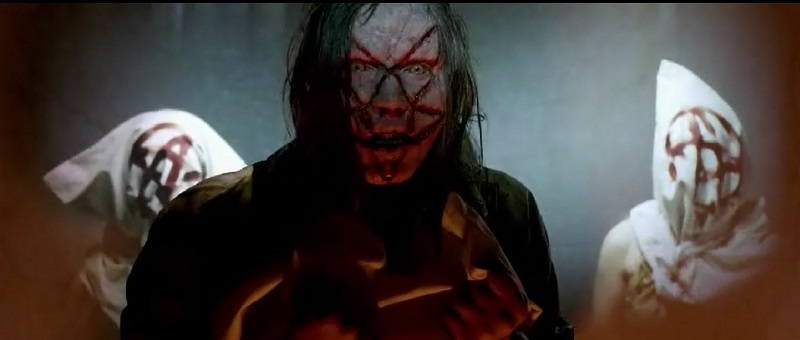 Jessica (Harkavy) is left to her own devices while guarding a local empty and highly haunted prison during the night shift. and the night becomes a roller coaster of jump scares, poltergeist activity and moving family revelations.
Di Blasi's storytelling has a harshness about it, while the storyline is much like Assault on Precinct 13, the invading gang are more of a sadistic supernatural nature. Having worked on Midnight Meat Train (2008) and Book of Blood (2009) a touch of Clive Barker has really rubbed off on his film making and it turns this secondment into a stroll through hell. There's a touch of poltergeist at first, as chairs are found stacked up in a room, mysteriously a room of locker doors all open as ?? is left in an increstly claustrophobic environment.
He was running the show long before that clipped winged cocksucker got down there

-Paymon
It seems Jessica has a lot to live upto, her father was also an officer, one who tracked down and arrested a prolific cult leader John Michael Paymon (Mikel) basically the movies own Charlie Manson and his giggling/singing groupies The psycho has named himself after one of the 72 demons of solomon Paimon and vowed to kill the officers who arrested him and destroy all their families.. Leaving Jessica in a difficult predicament, why she just doesn't leave the station and call it a day I couldn't figure it out.. . Her family is so notorious for being excellent police officers and she feels duty bound to do her best, no matter what the night throws at her, but no one can be prepared for this.
With a few vagrants hanging around and one pissing in the station, Jessica has to contend with strange poltergeist activity and one wonderful encounter, a touch Nightmare on Elm St and 13 Ghosts, a hanged figure with a plastic bag over the head slowly slithers down the corridor and raises up towards the ceiling like a halloween pinata, the mood and visuals turn more hellish as Jessica attempts to figure out if things are happening in or out of her head and slowly gets a grip on the situation.. or does she?
There's a strange release at the end of the film, you'll realise that your perception has been twisted and toyed with by a creative director. For me this film signals that there's hope that non cgi horror can still be a contender, however on the downside the film is a bit lacklustre at times, but the payoff is worth the odd dry moment.
TLDR:
Rating: 4/10
Related: No ONe Lives (2012), The Windmill Massacre (2016), Siren (2016) Hatchet (2006), Midnight Meat Train (2008) Book of Blood (2009) Books of Blood (2020)
Lists: Cult Leaders
Trailer