Director: Penny Woolcock
Starring:Alec Newman, Sienna Guillory, Marc Warren, Julian Barratt, Lara Clifton. UK. 1h 48m
In a heated conversation between a couple of shabby fellows after a night of debauchery, a poignant line is shouted, the definition of the film title and ethos of what you have spend an hour watching… it goes something along the lines of "meeting someone fucking their brains out and when you get bored you move on". This dry argument is a key to Penny Woolcock's vibrantly disturbing drama surrounding the most powerful bouts of writer's block that Paul might ever have in one lifetime.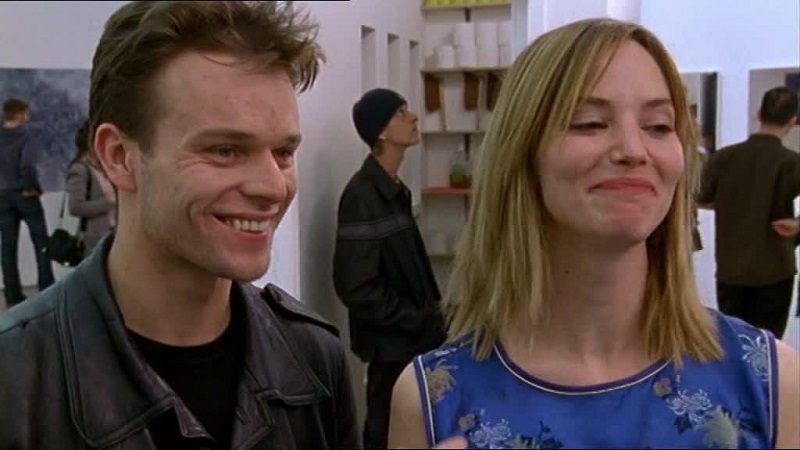 The shocking movie from pioneering director Penny Woolcock, who's fascination with street cultures of Britain have conjured up wonderful insights such as Tina Goes Shopping (1999) and the sly Macbeth on the Estate (1997). After a few years of refining her unique method of storytelling a electro clash of classical genius and British street culture, but this time around it's a strange deep dive into romance and of course lust and all in the shadow of a writer's path to self discovery while trying to exist on the doll.
In Sheffield, an unpublished novellish, Paul (Newman) literally crashes into Billy, after their little car crash, Billy offers Paul a drink and takes him to a nearby strip club, held in a run down pub, where Bills nympho girlfriend (named Hole) is flashing her gash for cash, making up some money while studying for a law degree. It's this seedy underworld that really ignites something in down and out writer, a world of drugs, loose women and strangely a brutal bare knuckle fighting ring centred around young school children where Billy encourages 11 year old boys to beat each other into a bloody mess. But risking everything, including the beautiful relationship with the light of his life Juliette, Paul decides he doesn't want love and forever, but he wants lust and lots of it now.
Princple of Lust will casuse a stir, for the subcultured few there's a delightful insight into that totrured artistic genius but with so much graphic violence and sex, others will be clutching their pearls, trying to work out what the movie is trying to say? It's dark and edgy, even to this day, there's more than just orgies and coke snorting, it's combines the sociopathic angles of Fight Club and the wandering around wonderland atmosphere of Bad Influence but amped up with a very British rough feel.
Penny 's melancholic and visceral insight into love and lust would get a seal of approval from Frida Khalo, it's rough and raw and will a bittersweet taste in the audience for weeks to come for anyone willing to go with the ebbs and flow of a very unique and terrrifying story which somehow ends on a high note
Rating: 8/10
Related: Thought of Ecstasy (2019), True Romance (1993), Trainspotting (1996), My Beautiful Laundrette (1985),
Lists: New Relationships
Article: Is explicit material suitable for cinema?
Keywords p, uk, england, doll, benefits, writer, parent, stripteae, orgy, drugs, dodgy, underground, alternative, mother, cheating,