Una Magnum Special per Tony Saitta / Shadows in an Empty Room (1976)

Director: Alberto De Martino Starring:Stuart Whitman, John Saxon, Martin Landau, Tisa Farrow.Canada/Italy. 1h 54m
Shadows in an Empty Room is a distinct 1970s crime film with mad tones of Euro grime; this De Martino might be out of place in Canada, but it doesn't drag for a minute. Shadows in an Empty Room is what would remain if you stripped a Giallo movie of its euro trash, bumped it up with a heavy Polittesco narrative, and went full frontal.
On the campus of Montreal college a man notices his ex girlfriend having a moment with her lecturer, and suspected lover, Dr Tracer (Landau), later on that evening a prank turns into a suspicious murder, and the prime suspect is Laundau, and his student/girlfriend is stone cold. Unlucky for him, her brother is a hard ass police officer, played by Stuart Whitman and his back up is the steely eyes John Saxon and they are about to get some Canadian Justice.
Everything about this movie is tough, De Martino does chuck everything into it, even if it's not needed or over the top, but he manages to make it all work. There's a level of invesitgative Giallo, a murder, lots of suspects that get killed off, strange clues and secrets are around very corner, but the sleezy euro crime elements are chicken dinners, Whitman is often too busy blowing people away or having massive brawls with transvestives and showing hot irons up their arse for good measure. The only let down is that Saxon is often left out of the fun.
The stand out character, the only person without a bad temper is Tisa Farrow who plays a blind friend of the dead chick but somehow holds certain keys to unravel the plot so is a hot target. She's not a stranger to Italian horrors but this particular flavor is different but she's so adept, she takes it like a champ.
Walk with her if you dare…for every step will bring you closer, closer, closer to the meaning of fear!
It feels like a cut version of a true Italian poliziottesco, and slightly re-wired for the Americas cinema scene, the result is a slightly elevated movie which doesn't seem to dated as it's counterparts and it's easy to see why it's got a cult following. Overall, cinematographer Aristide Massaccesi, manages to splice the Dirty Harry storyline with the vibrance of a Dario Argento technicolor nightmare, and this method of handling the quiet drama between car chases and beatdowns manages to conjure up such a iconic 70's vibe, alongside a brilliant jazzy soundtrack.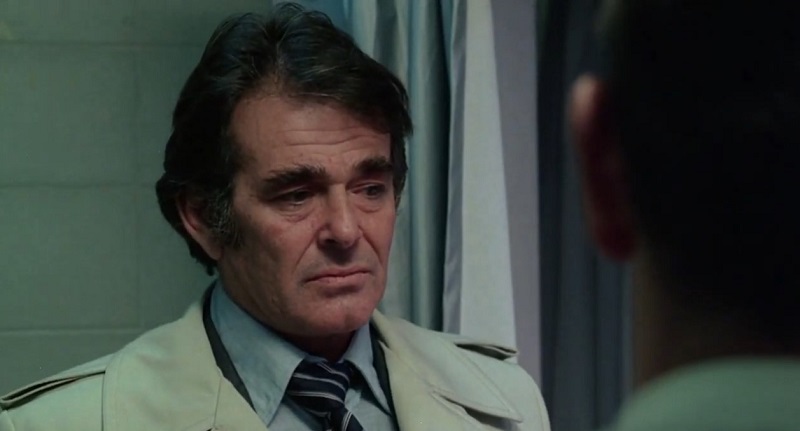 Not just a movie for the hardcore Eurofilm buffs, this movie is easy to settle into and enjoyable in so many ways, it's violent and yet not very gory, it's able to handle dramatic emotive scenes along with an improvided car chase and a comedic drag fight only one step away from early Batman and yet it keeps straight. All of these elements can be seen as a bit of a jumble but you will want to see it again.
Rating: 6/10
Related: Mark Strikes Again (1976), Falling Man (), Don't Torture a Duckling (1972) Dirty Harry (197)
Lists: None Euro Giallo
Spotlight:Martin Landau, John Saxon, Tisa Farrow
Trailer