Director: Mikael Håfström
Starring: Anthony Hopkins, Ciaran Hinds, Alice Braga, Toby Jones, Ruther Hauer, Colin o'Donoghue. USA. 1h 54m
Loosely based on a book that centres around a real life priest Father Grey Thomas, this choppy and sentimental possession movie attempted to enlighten viewers with real possibilities of demonic possession and gives a more relaxed approach to exorcism process, sometimes it takes times to battle a demon but in the ending showdown the movie reverts back to the classic trope of a priest vs demon verbal slagging match.
Originally Father Thomas was tasked by his bishop to become the diocesan exorcist and so was sent to Rome to learn how to do it. Having grown up with a mortician as a father, played by the iconic Ruter Hauer, the boy begins to grow an attachment to death after losing his mother, but the priesthood is his future and after challenging his tutor (Ciaran Hinds) he's sent off to be tutored by a curious Father Lucas, a wayward and unconventional priest, played by Sir Anthony Hopkins and somewhere along the line, Angeline (Braga) becomes his doting sidechick.
Mikael Håfström, known for the Marmite King adaptation of 1408 (2007) has a particular knack of toying with the audience's perception of reality with glimpses of demonic influence or maybe it's just a shadow after all. At times the movie is damn right creepy but it never goes above and beyond that. A red eye horse appears from nowhere, a messenger of death, and there are lots of frogs around when spirits are lurking but if you find them cute it's not going to keep you up at night.
Most of the younger priest's training comes from cryptic lessons and examples from Hopkins but when things get gritty he's left to his own personal devices and some help from his side chick. There's nothing really outstanding or different from the multitude of other possession films apart from the personal touch that you can sense it all comes from someone's personal history.
Be careful Michael, choosing not to believe in the devil doesn't protect you from him. – Father Lucas Trevant
Håfström attended exorcisms to prepare for directing this movie. He was not allowed to witness them, but he could hear what was happening from outside the door. and it kinda goes to show.. listening to an exorcism is terrifying anyone who's heard the recordings from ?? final moments will find it harder to swallow than the visuals in any possession movie.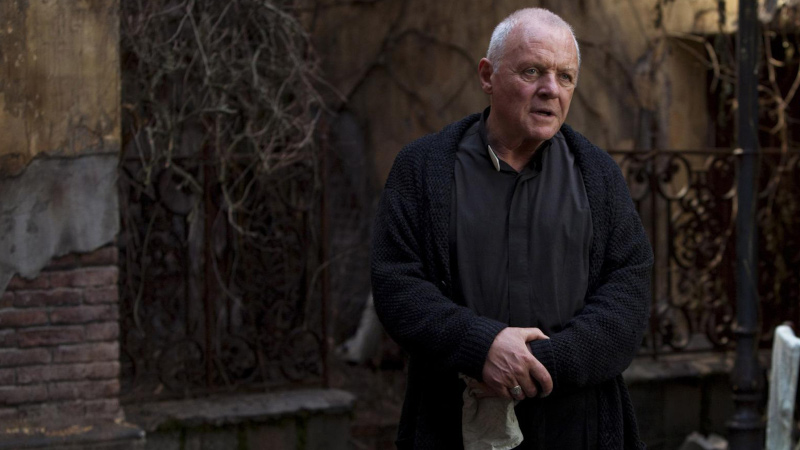 The Demon at play in this gloomy film is Baaland is usually depicted in the form of a man, a cat, a toad, or a combination of all of them. Father Lucas Trevant (Sir Anthony Hopkins') house is infested with cats, as well as toads in the fountain. So there's a big hint that he's living with a demon and yet still finding time to fight them, maybe you have to be one to know one.
TLDR:
Rating: 5/10
Related: Exorcism of Emily Rose (2005), Deliver us From Evil (2014) The Exorcism of God (2021) The Exorcism of Molly Hartley (2015)
Lists: Possession Bingo
Spotlight: Anthony Hopkins
Trailer