Director: Timothy Woodward Jr.
Starring
: Milo Gibson, Sean Faris, Jason Patric, Mark Rolston, Peter Facinelli, Jamie-Lynn Sigler
USA
1h 28m
Every now and again we have a revival of the glorification of the prohibition era, usually involving Al Capone and other characters popular because if his notoriety, 2018 kicked off with Gangster Land, an underpowered translation of the induction of "Machine Gun" Jack McGrun a one time amateur boxer who quickly climbed the ranks as Capone's second in command.
The plucky young fighter Jack McGrun (Faris) who uses an Irish name despite his Italian background as people will put their money on an Irish fighter is reluctant to get involved in the mafia, his (step)father runs a small café and often brews his own wine, this is regularly confiscated by rival gangs as he doesn't pay to sell. But after his father is killed he soon joins up and swiftly rises to the notable ranks of the gang running things alongside his new friend Capone (Gibson). The friendship strengthens and Jack picks up a showgirl for a lover the tantalising Lulu Rolle (Sigler) but as the gang becomes more infamous they spark up a rivalry with an Irish gang t headed by George "Bugs "Moran (Facinelli)this brutal war cumulates into the St Valentine's Day Massacre.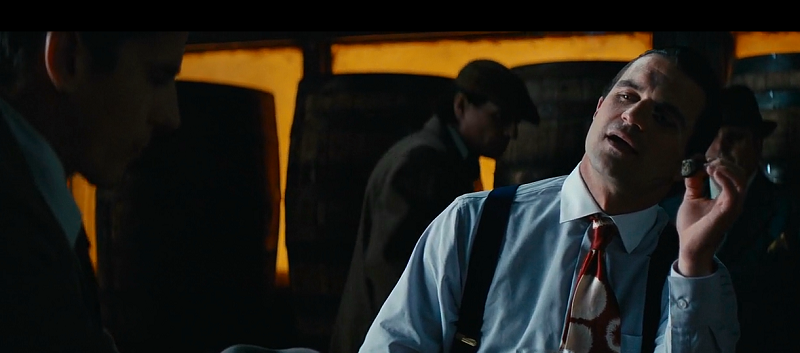 Despite the big name being a poor relation Gibson, Milo Gibson who doesn't look like a 20 year old in the slightest the acting is a crusty and doesn't seem as if much effort has been put in, and a few brief appearances from Jason Patric who's tough guy persona is just to smile on one side of his face and say "C'mon" like the Fonz is coming back into fashion, the film is totally amateur hour. Mark Rolston breaths a bit of life into the production for a few brief minutes, he eats a meal, talks some big talk and gets shot, but trust me those moments are golden. Otherwise it's just various independent scenes cobbled together and at times seems unrelated.
I'm sure it's great for the kids who haven't seen any of the classics, such as The Untouchables (1987) Once Upon a Time In America (1984) or even Bugsy Malone (1976). Gradually it's possible to see quite an interesting story is there but it's just presented in a mishap and shoddy manner. The most admirable qualities are the period costumes and cars but that's where the imagination ended and this was a struggle to work through to the end, much like Timothy Woodward Jr's last film Hickok (2017), another slow underpowered movie that could have been so much more.
Rating 2/10
R: Untouchables (1987),Once Upon a Time In America (1984), Bugsy Malone (1976),Hickok (2017)
L: A-Z of Gangster Films
5s: Mark Rolson, Jason Patric
Post Discussion