Shifty (2008) Director: Eran Creevy Starring: Riz Ahmed, Daniel Mays, Jason Flemyng, Jay Simpson .UK. 1h 26m
You could argue that the British Urban genre is still in its infancy, or at least it's fixated on youth and troubled adolescence that it's hard to see it in a mature sense. However debut director Eran Creevy raises the bar with this uber smart, darkly funny and engaging drama all stuck together on a meager budget. Usually the scene is something daryl troubled like Kidulthood, Cherry Tree Lane, and they all have their visceral points to make but Shifty is more chilled and less aggressive but it does highlight street violence and the grimey underbelly of our streets but it's achievement of highlighting the friendship of two amazing friends and the characters they meet along the way will make an audience smile before smacking them with a gory ending.
Daniel Mays and Riz Ahmed give stellar performances as two mates who have been reunited after a long time apart. Mays plays Chris, a young and bright guy who is attempted to take steps on the property ladder in Manchester and on returning to see his old childhood friend in London he finds that Shifty (Riz) lives life at a very different pace as he runs drugs around the capital but he's making good money and is keeping himself clean.
Chris agrees to accompany Shifty on his run for the day, the pair laugh at some of the stranger customers but Chris is more than aware of how dangerous Shifty's life is, there's a very sinister supplier, Glen (Flemyng) who is trying to save himself by sacrificing others, and a pathetic but violent addict Trevor (Simpson) who's fall into disgrace threatens to take Shifty down with him as his stalks Shifty for some idea of revenge.
At times Shifty seems to attempt to be as smart and fast as a Guy Ritchie movie but luckily it remains in its own groove, something way more forward thinking, but equally crafty with its plot, but the streets have fewer faces in Creevy's imagined London. However Jason Flemyn really does instill fear when needed.
I've got a few things I gotta do today

-Shifty
Creevy does a wonderful job at highlight the boys friendship, building this own unique atmosphere around their bond and their plights within the city, but with the film being so highly character driven it all hinges on two of Britain's best actors, often overlooked at the time, both men have really come into their own rights over time and I think this cracker really had a lot to do with their current recognition.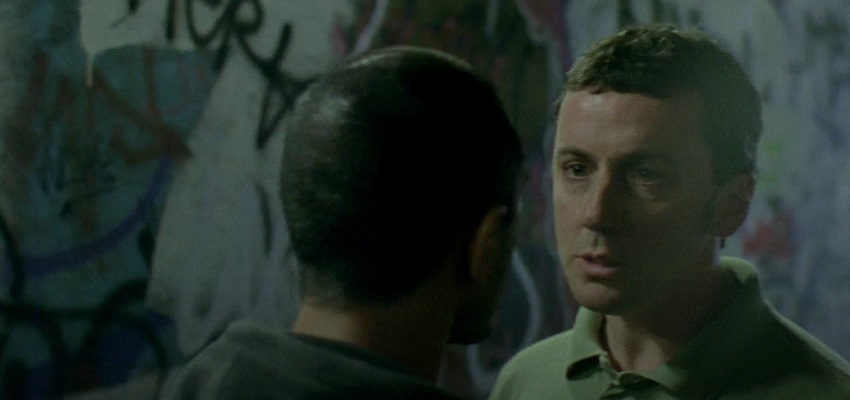 With it's lofi approach and Creevy's fine ear for dialogue and emotive production there's a lot of charm even when things get tough on screen in this shrew and engaging drama which remain convincing, at times creepy and has so much energy it's hard to contain.
Rating: 7/10
Related: Wasteland/The Rise (2012), Harry Brown (2009), Away Days (2008) Ill Manors (2012)
Lists: British Urban Cinema
Spotlight:Riz Ahmed, Daniel Mays, Jason Fleymng
Trailer: