Director: Takashi Miike Starring: Masataka Kubota, Nao Omori, Shota Sometani, Jun Murakami, Sansei Shiomi, Masaaki Uchno .Japan. 1h 48m
A strangely beautiful and violent thriller from cult classic director Miike, who, in recent years has slowed down and mellowed a little but swinging back with this sophisticated drama with slick fighting scenes and the odd touches of animation and quirkness really elevates an already brilliant story that's acted out to perfection.
Miikes track record of outlandish movies really made a huge impact, and after a short stint of re rebooting iconic Japanese cinematic pieces such as Seven Samurai and Hara Kiri, his approach to bigger and bolder cinema has been fine tuned. This charming little piece follows Leo, an emerging boxer who is facing the darkest chapter of his life after he passes out in the ring and his doctor warns him that he might have a brain tumor. On his way home he rescues a screaming woman who's being chased by an unknown man and the two catch feelings.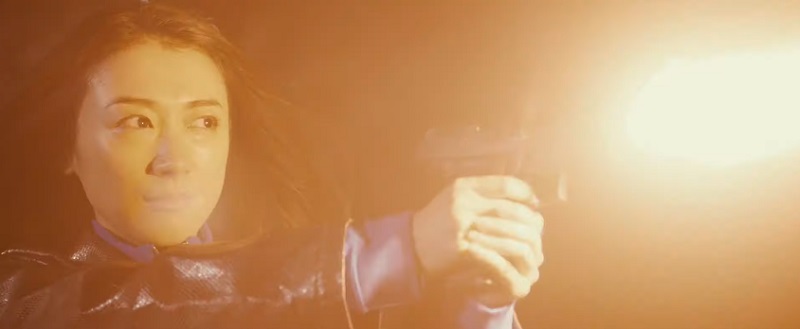 The woman, Monica (Konishi) has been forced into prostition by a couple of nasty Yakuza individuals who are expecting her to pay off her fathers debts but Yuri's going through a strange psychological nightmare and often sees her father dressed only in underwear and a sheet chasing her constantly. After a botched attempt by a Chinese Gang to take out Yuri's captors and blame their death on her, the girl is freed, and with nothing to live for after a diagnosis of a brain tumor, Leo (Kubota), an up and coming boxer is happy to fight to the death for her, wanting to go out like a warrior and the night ahead is filled with fighting, blood and honor for the pair.
Miike uses a full arsenal to retell this fast paced story, he's never one to shy away from artistic expression and his step into the wild side involves some brilliantly choreographed fighting scenes, blended with animation and a touch of the surreal, it feels as if the director has getting back coolness of City of Lost Souls (2000) another title under his belt featuring a mismatched pair of star crossed lovers up against the toughest gangsters and their criminal world.
Much like the feistier modern anime, First Love takes pride in his vibrant color palette, and quick witted and quirky characters. in between the beatdowns and samurai styled fights there are cool chilled out yakuza chats, you'd expect to see Beat Takeshi having a drink at the bar in the background..
As the night whittles on, a phone call delivers a slightly unconvincing twist but one which adds an extra adrenalin shot onto an already detailed game. Despite Miikes track record, the resourceful film maker just about manages to wrap everything up with a strangely mundane ending, but it's one which reveal a final trick up the sleeve and another degree to an already layered game, showing his versatility and fondness for young couples against the world, love lives on.
Rating: 8/10
Related: Meglobox (2018) Ichi the Killer (2001), City of Lost Souls (2000), Rocky (1976), No Blood No Tears (2002)
List: Run all Night Films,